We at BTI stand in a very precarious position. Ai??After last night's blowout Cardinals/Panthers game, where prophecy/prediction became harsh reality for Arizona quarterback Carson Palmer (#4 BEAL), and headlines across the nation are now reading,Ai??"Carson Palmer fails on biggest stage of career,"Ai??andAi??"Memorable Season Ends With a Forgettable Night," we have mixed feelings about it all. Ai??Certainly,Ai??we want to spread the news far and wide of Jon Niednagel's eerily accurate foretelling over a decade ago of Carson's potential future, just as we wanted to do so back when Peyton Manning (#5 FEIR) became a star and Ryan Leaf (#7 FEIL) became everything but. Ai??At the same time, our heart goes out to Mr. Palmer, who said in his own words after last night's humiliating loss, "This is as low as you can feel.ai???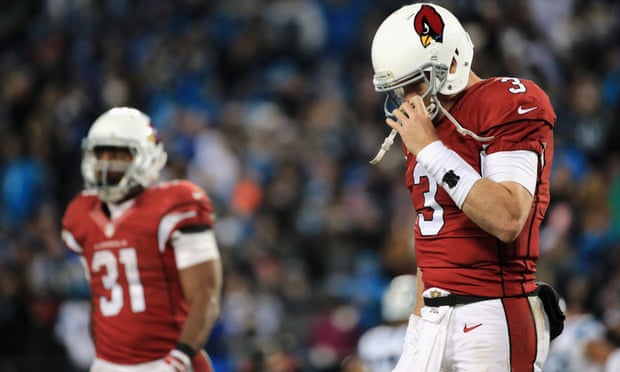 Folks, no Brain Type feels worse for failing others than the #4 BEAL.Ai?? They are the consummate team players, and Carson has been no exception over the last 13 years of his career, whatever team he's played on. Ai??ai???I kept digging us a hole we couldnai??i??t get out of it,ai??? he went on to say.Ai?? "We put so much in, the coaches put so much in, the fans put so much in, and I let them down."Ai?? Carson again used the phrase "I let them down"Ai??when he went on to say about the fans, "Our fans take this personally, and they should, and I hate that I let them down." Ai??As a rare and genuine Back-brained introvert, PalmerAi??will assuredly ruminate on this calamity for many moons to come.
As our Facebook followers were reminded this morning, Jon Niednagel went on ESPN's "Mike and Mike"Ai??way back in 2003 to predict Carson Palmer's potential futureai??i??before he ever took an NFL snap. Ai??The show was posted on our page this morning for everyone to watch, and you can view it below as well. Ai??Besides Niednagel stating that Carson's motor, spatial, and emotional skills would be taxed under big time pressure, and that he, as a Left brained #4Ai??quarterback, was no #5Ai??John Elway, Joe Montana, or Peyton Manning (who we'll get to later), he also specifically told Mike and Mike, "There's nobody who will assume more self responsibility than Carson. Ai??There's nobody who will be more sincere." Ai??Yes, unfortunately, while it is too often the success or lack thereof stories that make headlines for Brain Typing, we believe the more subtle, personal predictions should be far more valued. Ai??After all, many BT sports predictions could be placed somewhere in the 50/50 chance range, but the odds for accurate personal behavior predictions, such as taking self responsibility for mistakes? Ai??Those odds are far, far slimmer.
At any rate, back to the game. Ai??Palmer completed 23 of 40 passes for 235 yards, one touchdown and four interceptions in Sunday's NFC championship loss, not to motion two costly fumbles. Ai??This is the "hole" Palmer was referring to, which ultimately amounted to a staggering 34 point loss to Carolina. Ai??To be sure, and as Niednagel said was certainly possible,Ai??Palmer enjoyed the best season of his career in 2015, passing for 4,671 yards and 35 touchdowns, while completing 63.6 percent of passes. Ai??Yet, it is the post season that truly matters, and is what separates the goods from the greats, and the greats from theAi??legends. Ai??Also, it reveals most clearly how both mind and body uniquely operate for each BT, and that there is no greater predictor for performance, regardless of the circumstance.
Would you like to see Niednagel back on "Mike and Mike" for another interview? Ai??Drop them a note saying so! Ai??While Niednagel's time is limited (due to schedule and health), he likely would accept an invitation to talk about the game, not to mention Peyton Manning's victory over Tom Brady (#9 FCAR) yesterday. Ai??Would make for some great radio!
——————————–

——————————–
Written by: Staff
(click for source)Ai??
———————————