The #9 FCAR can have a tendency to say things that are not quite logical, or thoroughly thought out, or perhaps just a little extreme. Ai??Kanye West is one of the best examples, who has several times compared himself to Jesus. Ai??In fact, the lyrics to one of his songs reads, "I know he's the most high, but I am a close high." Ai??West also has been pretty arrogant, stating on the Jimmy Kimmel Show, "For me to say I'm not a genius, I would just be lying about myself."
Another #9 recently came out to compare himself to Jesus, though perhaps in a less braggadocios way. Ai??For years now, Sammy Sosa has maintained his innocence that he never took enhancing drugs during his baseball career. Ai??The 48-year-old Sosa compared the speculation over his usage to the persecution of Jesus Christ, saying to Chuck Wasserstrom, who used to work in the Chicago Cubs' media relations department, "Chuck, it's like Jesus Christ when he came to Jerusalem. Ai??Everybody thought Jesus Christ was a witch, and he was our savior. So if they talk [poop] about Jesus Christ, what about me? Are you kidding me?"
Actually, Sammy, are you kidding us?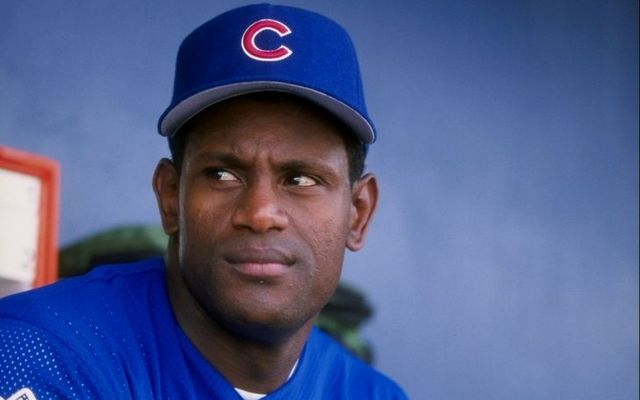 As one author writes, "Sosa is among the sluggers synonymous with the 'steroid era' in MLB." Ai??He finished his career with 609 home runs, 402 of which came after he turned 29. Ai??Indeed, the sudden spike was a bit noticeable to many. Ai??Interestingly, Jon Niednagel assisted Sosa around this time in the earlyAi??90s with the Chicago Cubs. Ai??ai???Jon helped me a lot," Sammy told reporters, "I like to talk to him because heai??i??s a good guy. Ai??He can put you on track.ai??? Ai??So, was it Niednagel who in fact turned Sosa around? Ai??To be sure, Niednagel helped Sammy "a lot,"Ai??encouraging the big slugger to hit the ball to the opposite field, thereby causing Sammy to better utilize his gross motorsAi??(and wait for the ball!).
Immediately following Niednagelai??i??s few days of assisting Sosa, Sammy raised his batting average some 30 points while hitting multiple HRai??i??sai??i??to right field no less! Ai??Though Sammyai??i??s animated and #9 BT would always struggle with patient ai???at batsai???, he learned from Niednagel at the beginning of his career what was necessary to be a successful hitter for his unique makeup. Ai??So much so, when Sammy had his captivating competition with Mark McGwire (#2 BEAR) in 1998, Niednagel would contact him on occasionai??i??whenever Sosa would slump.Ai?? Not surprisingly, Sammy would quickly snap out of it and go on another home run barrage.
Whether PEDs also helped turn around Sammyai??i??s game, we'll leave for our readers to decide. Ai?? Itai??i??s been claimed he engaged in additional helps, but what BTI knows better than any, when Sammy disciplined himself to hit properly, escaping his abstract and Animate feelings while substituting visual rationale, he would immediately excel.
Written by: Staff
(click for source)
——————————-